On the road again...
as our vacation starts in Missouri, Lake of the Ozarks. Leah Michelle and the grand kids: Kara, Mark and Paige joined us; as well as Laura and Brock! Texas meets Missouri and it was a wonderful time! The 3B's Bed and Breakfast was a great spot to stay. We enjoyed the sunny morning breakfast with the bird feeders and butterflies close-by.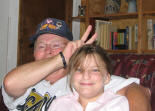 No trip away from MT is complete without at least one meal at SONIC.
Brock and Laura enjoying the sunny breakfast room.
Lake of the Ozarks from Uncle George and Aunt Audrey's home. The tram made it a fun trip from the house to the lake shore. WOW, it is beautiful there and so much lake to see!
Time to sit on the deck and visit ... it was very nice.
Now we are off to do some site-seeing!
The first stop is at Mary Mother of the Church, out-door Catholic Church! It is magnificent! The huge statue of Mary rotates, keeping guard on the grounds. There is a wall below the statue of black marble with hundreds of Mothers Names placed there in their honor. The back of the Alter is the triangular pipe metal sculpture and the church pews are grass and stone configured in a stair-step style.
Bagnell Dam, built in the 30's, forms Lake of the Ozarks.
OK, OK, yes we went to Dairy Queen and yes we had a Blizzard!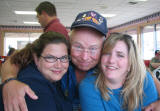 A family visit to the historic Route 66 Museum

Missouri is know for it's caves and we visited several of them!
First was the Bridal Cave. It reminded me of Lewis & Clark Caverns here in MT.
Next we drove into the back roads of MO to visit a cave, that is also a restaurant! Great dinner and a very unique experience. You are shuttled along a narrow road to the elevator that takes you UP (about 100') to the cave where you eat. The cave overlooks the steep walls as well as the rive. Great food and very unique decorations.

Our last day in MO as we say good-bye!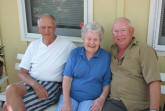 Did some shopping while in MO. Here is a vase, imported from Mexico that will make it's way to Silent Auction at Soroptimist, "A Night of Wine and Roses" in January!