Mandy Jones weds Caton Powell –
May 27, 2000 at 6 o'clock in the evening
Holiday Inn Atrium, Billings Montana

The flowers were pink roses for the bride and groom,
with the rest of the Wedding Party wearing pink and white roses. In the background note the tall row of lights –
it's a glass elevator that the bride rode down to the main Atrium Room.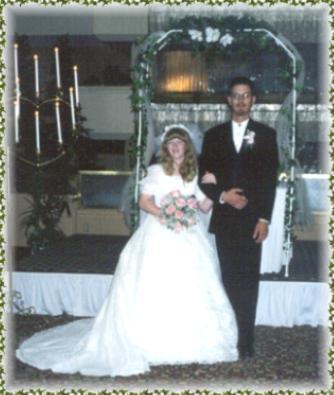 The arch was decorated with Ivy and Magnolias,
with two double heart candelabras at the side.
In the background is a three story tall waterfall.
We all had fun with the confetti poppers.
David needed a helping hand from Mom to make his work.
The Best Man, Kurt, did a wonderful toast to the Bride and Groom. The evening finished with the happy couple opening presents and enjoying the party.