August 12, 2003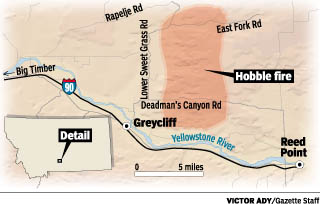 Hobble fire continues to burn out of control, damages power lines

REED POINT -- From where she stood Monday afternoon, JoAnne Morris could see her children's small corner of heaven go up in flames. "Oh, my gosh. That's got to be our land," Morris said as wind-whipped flames from the Hobble fire torched trees on a wooded hillside 2 miles away. "There are some huge ponderosa pines on that property," Morris said, holding her hands at shoulder width to approximate the size of the tree trunks.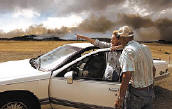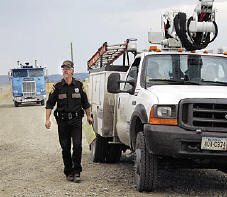 Gee Gee Tool, from Reed Point, and Don Trees discuss their neighbors' safety as they watch the Hobble fire advance near Trees' property.
Sweetwater County Reserve Deputy Don Franklin mans the roadblock at the corner of Deadmans Canyon Road and Stephens Hill Road as a Northwestern Energy truck heads to repair power lines damaged by the Hobble fire.