Mary's news: between

family, work and a few outside activities, my schedule keeps very busy. July 4th is still my favorite day ... chuckle ...

Work:
Work for me is sales and marketing for the Montana based company DataCorp and I am enjoying client development for this great company. Website work with FrontPage is fun and some great features. Shop Montana was a great learning experience for me and I am thankful for the many things I did and learned while I was there!

Outside activities:
My main outside activity is still Soroptimist International of Billings. I try my best to keep that Website, as well as this one, current! I am also the committee chair for The Club Identifying Project - "Baby Think It Over". This is a teen pregnancy prevention program in our local schools here in Billings, Laurel and Big Horn County. Soroptimist main fund raiser is "A Night of Wine and Roses".



There are so many things
that I am thankful for:
Mom, family, road trips from Minnesota,
road trips to Illinois, friends,
new family and all the other things that make me smile.


As we count our many blessings we share in the
joy of Mom and Ted's Wedding on Feb 3, 2001.
Family:
Tawney and David moved into their new home June 3, 2000. Wow, it is nice to have a place to call your own! David's job with the Post Office and his two beautiful daughters keep him very busy.


Among the foothills of the majestic Beartooth Mountains Tawney Powell-Gaustad married David Peterson on January 14, 2000. The winter weather cooperated, except for the wind, it was a perfectly beautiful day.
More pictures of the Wedding.
2003 - The Peterson Family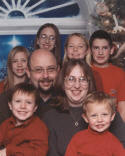 The grandchildren:
Elayna (age 14), Zachary (age 10), Amanda (age 9), Maggie (age 8), David (age 5) and Matthew (almost 3) continue to grow and they are an eternal source of joy.

On the blessed day of 14th of May, 2007
Elayna Anne Marie Powell
& Randy Habets
were united in Marriage Billings Montana
by Judge Larry D. Herman.
Reception at Nana and Grampy's!


Tristian Skye Jae Habets
was born on May 16, 2008.
Braxtin Armel Jaid Habets
was born 6/18/2010.

Caton moved into the new house spring of 1999.
Caton continues to work at Roscoe Steel as well as pursuing his interest in becoming a gunsmith. Merry Christmas
from The Powells, 2000!

Caton and Amanda's daughter was born on December 20, 2001.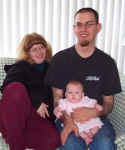 Trinitee Jean Powell was born at 2:18 pm. She weighed in at 6 # 14 ounces and 19 inches long. Take a look - we think she is gorgeous!
Summer 2002
The Powell Family

Peaches, is a Blue Heeler and Greyhound mix. That really keeps everyone on their toes. She is pictured here with Dozer, who now lives in Columbus.
Stop by and see


Nate's Website (lots of fun pictures)! Follow down the page to Grandma's Wedding and be sure not to miss the snowmobile expedition to Yellowstone National Park.

THE BIRTH OF THE SONG "PRECIOUS LORD"

MEMO FROM GOD

Ecclesiastes, chapter 3 verse 1-8

ANTI-STRESS DIET

SOMEBODY NEEDS YOU
03/11/02 9/11 six month anniversary
2004 - Merry Christmas to all.